The Audi Q5 vs The Audi Q3 Head to Head
If you're familiar with the Audi brand, then it is important to know the differences between the various models. In this blog, we will be discussing two of Audi's best SUVs and helping you learn the differences between each.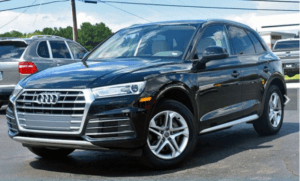 The Audi Q5 is a stylish SUV that is great to drive and good on gas. It has a turbo charged engine, high tech interior and refined power train. This vehicle ranked number 2 in luxury compact SUV's and was also a finalist for the 2019 best family of SUV cars in its class.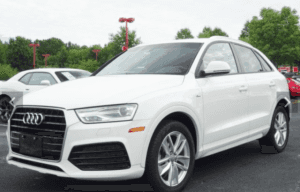 The Audi Q3 has a new platform and a long base with more interior room. Its technology and exterior design features strong ergonomics and it is stylish and eye catching. It is packed with many modern features and is a very quiet ride. The Audi Q3 ranked number 2 in luxury subcompact SUV's and scored an 8 out of 10 in the cars and trucks annual review.
Comparisons between these 2 vehicles are:
If you're keen to save money on purchasing a new SUV, looking for a used Audi Q5 or a used Audi Q3 is one of your best options. In this quick read, we're giving you a comprehensive between these two Audi offerings.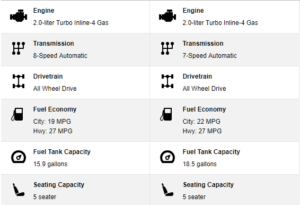 The Key Differences
The Audi Q3 is appealing because of the cozy ride it gives together with its awesome urban packaging. The Q5, on the other hand, provides drivers a wide range of power-train choices.
Cargo Space. Buying a used Audi Q3 and a used Audi Q5 is a popular debate, but one of the key differences you need to know first is maximum cargo space. The former only has 16.7 cubic feet while the latter has 29.1 cubic feet.
Design. The main vehicle design disparity between the two Audi models lies in the wheelbase — Q5's is 8 inches longer. This gives it a bigger interior space with a rear legroom six inches bigger than the Q3.
Fuel Economy. With regards to fuel efficiency, Q3 runs at 20 miles per gallon (mpg) city and 29 mpg highway. Meanwhile, Q5 is at 17 mpg city and 30 mpg highway.
Performance. Typically, both are equipped with a turbocharged 2-liter engine. However, with this engine, a used Audi Q5 can give more power at 220 horsepower and 258 lb/ft of torque (compared with a used Audi Q3, which is only at 200 horsepower and 207 lb/ft of torque).
Safety. Though both are lauded as safe vehicles, the Q5 takes this aspect to a higher notch with its adaptive cruise control feature.
Which Car Should I Choose?
The decision rests totally up to you as both vehicles have pros and cons. ALM Newnan carries pre-owned inventory of these vehicles and our sales team is here to guide you through a test drive and a walk around of each. Why not come in and visit our showroom today where we can discuss financing options with you and then you can make your decision on which SUV you prefer.